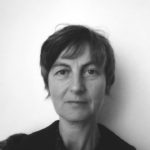 Hazel Carrie first trained as a dancer and has worked for over 30 years in all kinds of artistic and social projects.
She trained in the Alexander Technique with Elizabeth Langford and Eliane Lefebvre and qualified in 2001.
She has recently completed a course in Biodynamic Craniosacral Therapy and is currently studying physiology and development in Traditional Chinese medicine with Jean Luc Hody.
She finds these different approaches to be complementary and enriching. They bring new insights and depth to her understanding of how we function as human beings.
She practices T'ai Ji and Qi Gong with Philippe Beaumier. She plays the piano and has taught on Rudolf Kratzert's master classes with professional musicians.
Hazel enjoys working with people of all ages and walks of life. In addition to her private practice she teaches contemporary dance and choreography to teenagers in the Humanités Artistiques in the Athénée Royal de Fragnée, Liège and works with the Alexander Technique with younger children in an afterschool club.
tel:04 252 0616
gsm: 0474 496272
mail: hazelcarrie@gmail.com
FR/UK
Address:
Rue des Bergers 161
4000 Liège