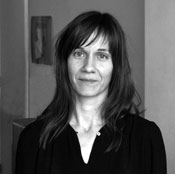 Sarah Ludi is a dancer. Her encounter with the Alexander Technique allows her to refine and tune her « instrument » of movement, perception and thought, weaving rich and profound connections between artistic practice, daily life, and presence in the world.
Sarah trained as a teacher of the Technique with Monique Vanormelingen, Michèle Desonai and Claire Destrée, and graduated in 2012.
Thanks to enriching work with her pupils, people of all ages and backgrounds, Sarah continually nourishes her practice of the Alexander Technique. On the other hand, she regularly follows the teaching of experienced teachers.
Sarah teaches Alexander Technique workshops for dancers at PARTS, Tictac Art Center, La Manufacture, Lausanne.
Since 2017, she is a teacher trainer in the Alexander Technique training school in Brussels, directed by Michèle Desonai.
gsm: 0485 02 54 24
mail: saraludi@hotmail.com
FR/UK
Address:
Chaussée d'Alsemberg 350
1190 Forest