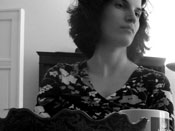 Christine Hengen graduated with a Masters Degree in Physiotherapy in 2007 (University of Liège). Since then, she has worked as a physiotherapist at the University Hospital of Liège and in her private practice.
It's through another interest, dancing, that she encountered the Alexander Technique, in the person of Hazel Carrie.
From her first lessons, Christine was intrigued by the quality of touch that is characterisitic of the Alexander Technique, this gentle suggestion of subtle change.
She trained with Elizabeth Langford and Monique Vanormelingen at the Alexander Technique Centrum in Leuven (2008-2011). She currently teaches in Liège.
Tel: 04 343 44 03
mail: christine.hengen@proximus.be
FB page: Christine Hengen Physical therapist
FR/UK/D
Address:
Quai de l'Ourthe 43a
4020 Liège