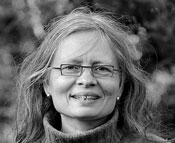 Judith Vindevogel received her first Alexander Technique lessons from Ruth Murray in London and continued her studies with Eliane Lefèbvre, Christel Bobine and Jos Burger.
She's been giving individual lessons of the Alexander Technique at de FENIKS in Mortsel (Antwerp) since 2010 and every year organises a three day introduction to the Alexander Technique in collaboration with podiumkunsten.be.
Judith Vindevogel studied dance, singing, philosophy and theatre. She is founder and director of the music theatre ensemble WALPURGIS and made her opera debut as Papagena in The Magic Flute in Salzburg and Brussels.
WALPURGIS/de FENIKS
tel: 03 235 66 62
fax: 03 272 33 82
gsm: 0498 12 95 61
mail: vindevogel@walpurgis.be
website: www.walpurgis.be
FB page: Alexandertechniek Mortsel
NL/FR/UK/D
Address:
Heidestraat 121
2660 Hoboken